The Azurin family brings an embrace of pregnancy and parenthood that just shows on camera, don't you think? These grads of the "belly to birthday" plan are back again with baby #2!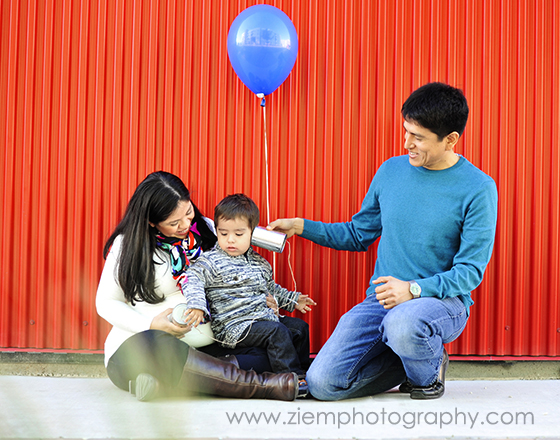 Ziem first worked with the Azurins over two years ago, when she shot their stunning maternity session in downtown Austin, and here they are again today – happy and healthy with another baby boy on the way! Ziem finds such inspiration in mom Dana's enjoyment of the pregnancy and baby times of life.
Our photographer in chief brought her trademark customer service to this shoot, carefully picking out a location that would complement the blues-and-greys family wardrobe Dana wanted. The day couldn't have been more gorgeous, with the red background perfectly complementing the outfits, and balloons, bubbles books and toy cars just adding to the fun. Speaking of toy cars, the big-brother-to-be provided the big laugh of the session when he decided Mom's stomach wasn't the place for a toy car & abruptly chucked the car away.
Ziem couldn't be more thrilled to work with them again and to capture the special Baby Boy moments over the course of the next twelve months. The Azurins booked another "belly to birthday" package, ensuring a treasure trove of first year milestone photos for the family.