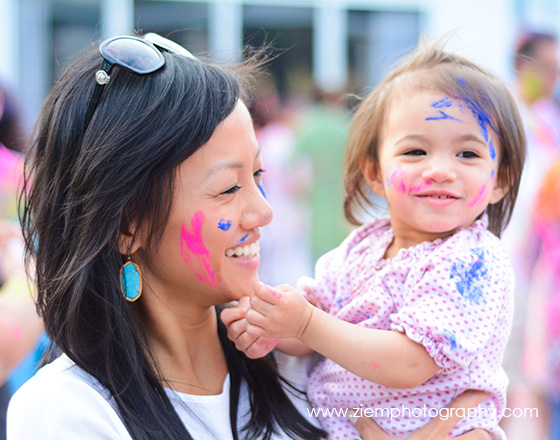 Holi is my favorite Hindu tradition among the few I celebrate with the girls. It is the most beautiful, colorful and meaningful holiday (not to mention F-U-N)! Imagine bold-colored powder, buckets of water, squirt guns, blaring music, great food, friends, family, and Indian dancers – there isn't a more joyous day! If you are planning to attend a festival this year, consider the following tips for capturing the magic that is Holi.
Wear white clothing – something you won't mind having to toss out after the event. Last year, I also wore rain boots.
If you feel compelled to protect your hair and eyes, wear a hat or turban and glasses.
Bring towels, baby wipes, and a change of clothes for post-event clean up.
If you are shooting on a DSLR camera, protect your gear with plastic housing and avoid switching camera lenses, batteries and cards at all cost. Shoot on two camera bodies with different lenses if you have the luxury.
Climb on chairs, balconies or any structure that might give you a birds eye view of the festival. Last year, I was able to capture images of the entire crowd and particles in the air as a result.
It's all in the details – powder, colored fingers, clothing, facial features. Given the fun nature of the event, there's no need to hesitate when approaching strangers and getting up close and personal.
After achieving your desired shots of fellow event goers, be sure to return the favor!
View more posts from my blog series "Shooting for Success" for helpful photography-related tips.