*** MINI SESSIONS IN AUSTIN – NEW DATES ADDED ***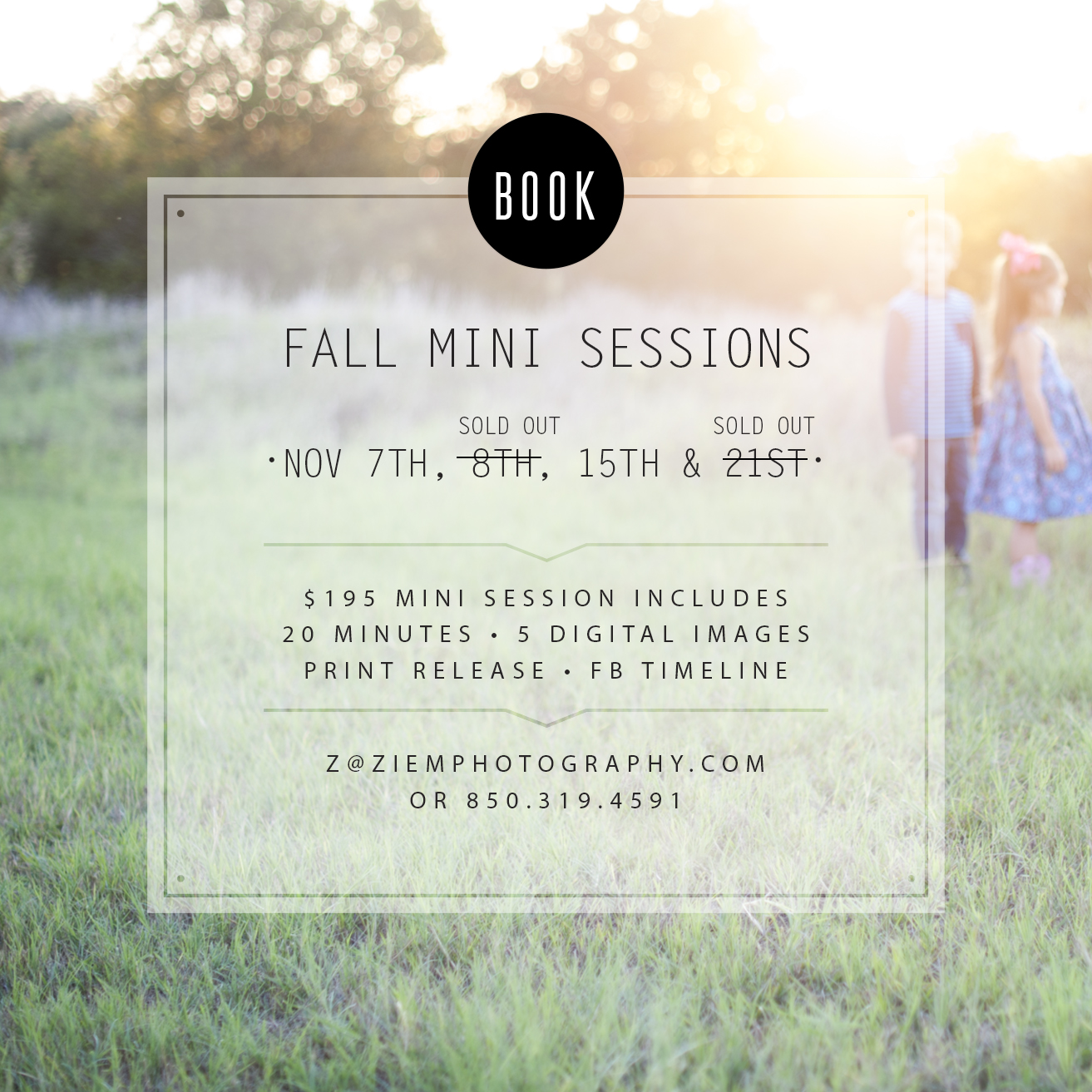 Hello Austin! It's that time of year to start thinking about our wardrobe and holiday card ideas.
My first round of mini sessions sold out in 24 hours. New times have been added.
I look forward to hearing from you, old and new!
How does a mini session differ from a full session?
A regular photo session with Ziem Photography runs sixty to ninety minutes in length at the location of your choice whereas mini sessions are conducted at a specific location chosen by the photographer lasting twenty minutes.
May I book multiple mini sessions together?
You may book two or more consecutive sessions.
What is the cost of a mini session and what does it include?
Each mini session is $195 and includes a phone consultation to discuss wardrobe, location, and meeting details, a twenty-minute session, an online gallery of 30+ images for proofing, sharing and ordering, and five downloadable high-resolution images of your choosing + print release and a FB timeline cover. Additional images or prints are 20% off for four weeks.
How do I sign up for a mini session?
Contact Ziem at 850.319.4591 or send a note to z@ziemphotography.com with your preferred date and time slot (availability below) and submit a $75 non-refundable deposit.
What happens after the session?
Within two weeks of the session date, you will receive proofs for previewing and ordering. From there, you will have the opportunity to select five images for downloading and purchase additional digital negatives + prints at 20% off.
Available times:
Saturday, November 7th
4:20-4:40PM A. Wimberly
4:45-5:05PM L. Larsen
5:10-5:30PM B. DeMartino
5:35-5:55PM L. Aseron
Sunday, November 8th
4:10-4:30PM L. Burnett
4:35-4:55PM M. Brandl
5:00-5:20PM C. Renteria
5:20-5:40PM B. Robles
Saturday, November 21st (UT Bye week)
4:10-4:30PM K. Krukewitt
4:35-4:55PM M. Agnese
5:10-5:20PM M. Kirsch
5:25-5:45 M. Trevino
Please contact me to reserve your spot today!