Picture it – a wedding so fabulous, so perfectly *you* and your Very Important Other that you decide to re-create the magic 10 years later, bringing back every last detail down to the same vendors. That's exactly what Cindy Lo and Scott Francis did last Saturday, revisiting perfection at the historic Driskill hotel:
Lucky Ziem got to sub in for Cindy & Scott's original photographer, who had since gone out of business. Not only did Ziem appreciate working with Cindy, the kindest, hardest working woman she's had the pleasure of working with for almost half a decade, but she also loved seeing the incredibly creative, luxurious little details Cindy dreamed up – and it's all about the details, isn't it? Take the guest entertainment at the reception, for example, which included a stunning ice sculpture, casino tables, flash tattoos, an interactive photo/video booth with festive props, and – Ziem's personal favorite – a "typewriter rodeo", complete with poets who churned out personalized poems on the spot using oh-so-Austin vintage typewriters: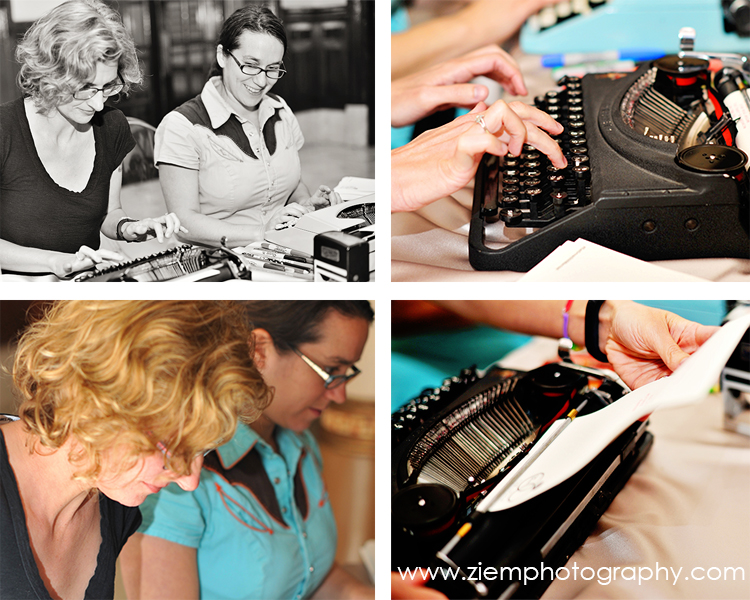 Cindy & Scott put the same attention to detail into the food, and the results were equally spectacular – again! Guests enjoyed food stations featuring Peking duck bun, fancy mac & cheese, Texas-inspired soba noodles & a taco bar. It all culminated in a cupcake bar, much like I imagine Heaven does:
Dysfunksun Junkshun kept guests shake shake shaking off all that cupcake bar goodness.
Notable guests for the night were the bridal party and Ziem's past client and friend, the de Waals, who made a quick appearance to congratulate the amazing couple after her husband pulled a 24-hr ER shift. Obviously, it was a party no one wanted to miss!
Just to put the icing on the (cup-)cake, guests encountered a delicious surprise when the valets returned their respective cars – two macarons in a darling gift box.
Congratulations to Cindy & Scott on scoring a perfect 10 anniversary party – here's to many more happy years *and* another killer party in 10!
** Special promotion to new and old clients, mention #EatDrinkStillMarried when booking and receive 10% off. Sessions must happen before June 1, 2015 **