On the ninth day of Christmas, Santa gave to me newlyweds dancing.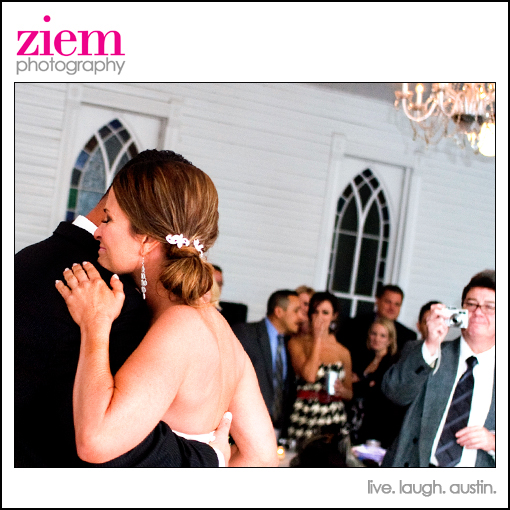 Eight brilliant feathers.
A duo's love a-brimming.
A mother and daughter gazing.
Young lady graduating.
Four all aglow.
Three big grins.
Tender sister love.
and a branch full of purple berries.

Olivia and Rene were married in November at the beautiful Mercury Hall, nestled in a secluded hilltop near downtown Austin. The wedding was a non-traditional one of many sorts.
The celebration commenced with cocktail hour (yes, drinks first. priorities!) and the bride came clad in a white blinged-out dress. Plethoric? Yes. Too much? No. After libations were had and laughs were shared, the bride slipped into her beautiful gown. I managed to sneak a few photos just before she walked down the aisle.
The ceremony was small and intimate. There was a warm vibe all around and I could tell each and every guest was special to the bride and groom. And when a few eyes in the room started to get a little dewy, Olivia came close to setting her dress on fire with one of the candles lining the aisle. She definitely garnered a few laughs. Just in time for the reception.
More often than not, a few special guests give a special toast and everyone follows by raising their glasses signifying their best wishes for the newly married couple. Olivia did away with a champagne glasses on her special night and decided a champagne bottle for each guest would be adequate.
It's no surprise a night of fun, food, drinks and dancing ensued. And when it was time to see the couple off, everyone lined up with their Texas-sized sparklers and bid the couple adieu!