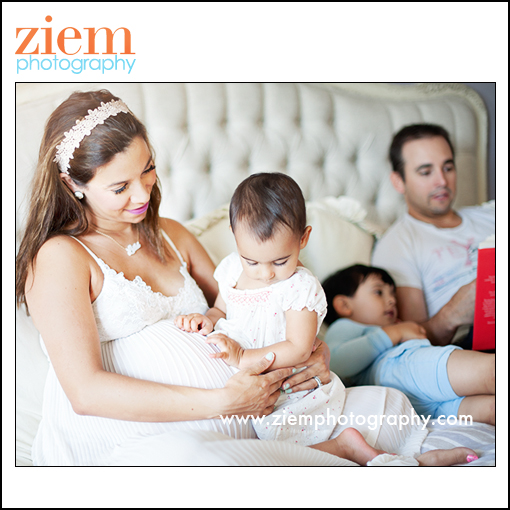 Documenting a woman's body during pregnancy can be challenging, but so much fun! With careful planning and a little sensitivity, here are a few helpful tips on how I help my clients prepare for maternity portraits that will be cherished forever. See more from my ongoing series of "Shooting for Success".
1. When should a maternity session take place?
My favorite time for maternity photos is in the middle to end of trimester two when the point of the shoot (a bump) is obvious and before a mom-to-be starts to retain water. Most first-time mothers can get away with shooting in the third trimester, but it would better serve the client if she can avoid the point of I-Might-Go-Into-Labor-Any-Minute stage. If you're nearing the end of your pregnancy, don't let it deter you from scheduling a maternity session. I photographed a 36-month-old pregnant with two dogs last week. She felt so great that with the intermittent wind, I almost asked her to do a little Beyonce shaking. But I digress. . . .
2. What is the best location for maternity portraits?
I decide on a location based on the client's individual style and where I feel she would be most comfortable. Whether it will be on location at a park, in a home with natural light with and a photo-ready nursery, or in a traditional setting of a private studio, documenting the anticipation of motherhood varies from person to person. It's not every day that we carry an additional 20+ pounds while taking sharp kicks to the ribs so be sure to consider the amount of walking and climbing that might be required.
3. Wardrobe tips for a maternity session.
I could do a separate post on this subject, but a few general rules of road for picture-perfect photos.
Form-fitting, long maxi dresses or, if you're not a dress person, skinny jeans accentuate your belly beautifully. Make sure to go fitted from top to bottom.
Flowy articles of clothing tend to not flatter as it hides your belly and silhouette while adding unnecessary pounds.
Step away from loud prints with all-over directional pattern. An exception could be made for accessories and accent items.
Pops of color and patterns work well in small doses – think scarves, belts, or necklaces.
Layering items such as scarves, cardigans, a sport coat, and chunky jewelry can quickly diversify the look of an outfit simply by removing these small items.
4. Pre-session pampering.
Pamper yourself before a session. You deserve it! Your hands will be moved and manipulated around the belly – clean, hydrated and manicured nails won't be regretted later. Have your make up professionally done and go a little heavier than normal (as you would for a night out). Schedule an appointment to have your hair blown out.
5. What are the most flattering maternity poses and angles? 
A good photographer must know how to highlight a subject's best features and make the mom-to-be feel beautiful. Shooting from above compliments the face and rotund belly. Leave a little space in between the waist line and arms to accentuate your curves and shape. I often ask my clients to hold her belly, close her eyes, and think about the baby. She is growing life in her body and needs to remember that soon she will be holding a new baby in her arms! The smile and twinkle in her eyes when she connects with her growing child is all that is needed to create the spectacular shot. The most important thing is to capture the glow of an anticipating mom – that is what she will want to remember most.
* * * * * * * * * * * * * * * * *
Upon completion of a successful maternity shoot, print and frame your favorite(s). You might not get around to it if you wait until after the newborn arrives. At this point you should also start planning your newborn session. Notify your photographer of your due date as the preferred window of time for shooting a newborn is typically within the first 14 days of life. You should also get an idea of what shots you like and secure the necessary props your photographer may not already have. I'll be back for my next installment of "Shooting for Success" with helpful tips for planning a newborn session.
I hope you enjoyed these helpful tips for a successful maternity shoot and I hope to create a maternity experience you will remember. For rates and availability, please send me a note to 
z@ziemphotography.com
 or reach me by phone at 
850.319.4591
.